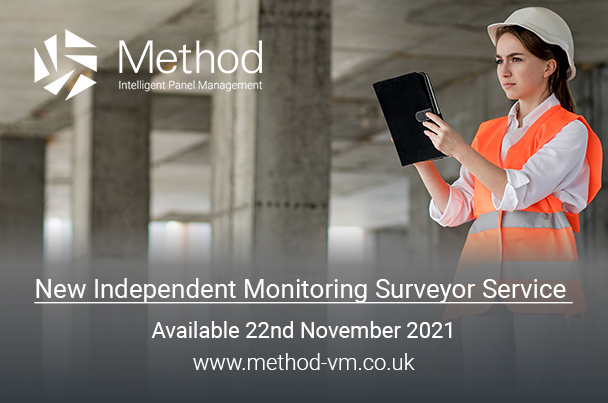 Fintech valuation panel management company, Method Valuation UK Limited, have today unveiled a new service to support development finance clients.
The Method Independent Monitoring Surveyor Service is released as part of the continual development of the Method xi panel management software suite.
As with Method's existing offering, the IMS service sources multiple quotations from suitably qualified professionals and presents them to the lender in a transparent and efficient way. The software then allows a client to select a quotation, covering initial and period reports, and safely manage the development project through to completion.
In line with Method's valuation service, the software is free to use for both lenders and surveyors, with no licence fees, management fees or set up costs.
Managing Director, Stephen Henman, said:
"Banks and lenders have always been aware of the importance of managing their valuation process and the practices that provide those reports in support of their secured lending activities. Our new service enables the same level of attention to be afforded to the management of the Independent Monitoring Surveyors (IMS) that provide ongoing project monitoring reports for lenders that deal with development finance.
"The key risks to those lenders are that appointed surveyors might lack sufficient qualifications, experience or insurance to undertake such work which would lead to an increased risk of loss should the advice provided be inaccurate or unreliable.
"For lenders this system development ensures that only IMS practices that have the experience and ability to support their development finance needs are instructed for their work.
"Our clients have advised us that existing valuation management software solutions struggle to process Initial Development Monitoring Assessments and Periodic Monitoring Reports in the same way as quote requests and instructions for valuations. The inability of these systems to do so means that lenders usually have to adopt different solutions for valuations and IMS services. With the best will in the world, running different development monitoring and valuations processed adds inefficiencies and additional risk.
"As such, a fully integrated IMS service is something new to the market and is generating significant interest from existing and new clients alike.
"In line with our valuation services, what we have delivered is a cutting-edge and scalable system that can be readily integrated with lender's originations and CRM systems. "Our bespoke algorithms, the individual lender's criteria and the Independent Monitoring Surveyor's predefined capabilities will allow the system to select the most appropriate surveyors for a particular development."
The IMS services section of the software suite has been developed so that it can be deployed in isolation or in conjunction with our valuation panel, procurement and process management system, which is seeing rapid increased deployment by UK lenders.
Stephen added "We believe that properly configured software that puts control directly into the hands of the lenders themselves can enhance the overall lending process for all."
Method, founded in 2014, launched the Method xi software system in 2017. The system is used to provide valuation panel management for over 50 clients in the UK, including banks, building societies, bridging lenders, development funders and peer to peer lenders.